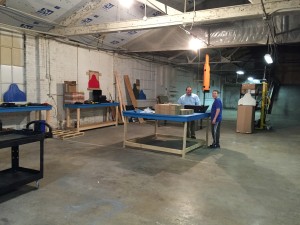 Jamie Chester has been working with The Jonas Project for about 13 months to launch his company, Apex Target Systems. We had a chance to catch up with Jamie and get the update on his milestones as he rapidly approaches the launch of his new target system named Phoenix.
Jamie originally came up with the idea for his business from his own experience in the military. While training, he often practiced scenarios to improve his shooting ability, and those scenarios would need to be as life-like as possible. He wanted to create a better target system that would allow the shooter to record and score their shots, and have the scenarios be more realistic.
"When I originally started this a year and a half ago with The Jonas Project, I thought I would be up and running in six months," says Jamie. "Two years later we will just be getting to the point of rolling out product."
While there has been some amazing progress with Jamie's prototype, nothing in an entrepreneur's world is ever that easy.
"We had some communication issues with the electronics firm from the start," says Jamie. "It was difficult because we were thinking one thing and they were thinking another. Getting alignment has taken a long time."
Not only were electronics hard to get in place, the revisions on the metal pieces for the unit were challenging as well. "We went through at least eight different prototypes and found flaws in each and had to go back and redesign. On one version we had a solar panel to charge the unit, but realized it wasn't charging fast enough and had a few other issues so we moved away from that. We went through three or four different actuators (the thing that pushes the target up and down) trying to find the right one," says Jamie.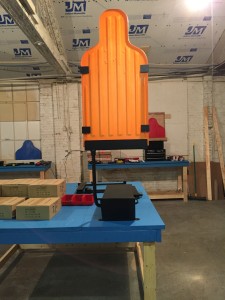 But now with the design of the major physical components of Phoenix virtually locked in, the other two remaining systems are rapidly coming to fruition.  They are completing the prototype electronics build, with the mobile app following closely behind.
The mobile app communicates to the actual target through a control network, controlling when the targets pop up, the number of impacts to take before they fall, and recording shooter reaction times, scores and provides live feedback while shooting. "You can set up different types of scenarios for competition, as well as using the system for long-range shooting instant feedback," says Jamie.
Apex Target Systems has recently secured an 8,000 square foot production and warehouse facility which is currently being equipped for the production process. "The facility, affectionately known as 'The Man Cave' by my wife, has been the scene of intense activity as my friends and family have been helping build work benches and get the site production ready," says Jamie.
Jamie says the support he has received from his Jonas Project Mentor, Elaine Mathews, has been invaluable. "Elaine is a god-send," says Jamie. "She never tells me what to do, but she provides suggestions and a lot of information and advice." Jamie and Elaine meet every Friday over the phone. "Her support has been phenomenal. When I'm doing something stupid, she doesn't tell me it's stupid, she just asks 'have you thought about it this way'. She's like my genius big sister. I just can't say enough about her and how much she's helped me."
To sell and direct market Phoenix, Apex Target Systems is setting up a network of sales people.  "In the first year we will acquire at least three Sales Managers for different geographic regions, and will operate on a commission based on their sales. Apex has decided to compensate the sales people very well to attract the best talent," says Jamie. The Sales Managers will receive extensive training and be evaluated on their sales, sales training and product knowledge prowess. "We are currently recruiting motivated, dynamic individuals who have an interest in shooting, guns and target systems. If you know anyone who might be interested, please have them give us a call at 877-224-6692 for details."
And in true new-product fashion, they are pushing hard to hit an April 25 launch date to coincide with the shooting season in Ohio. "I have a month of testing scheduled but we are already behind so that launch date is looking shaky," says Jamie. We have every confidence that Jamie will pull this one off!