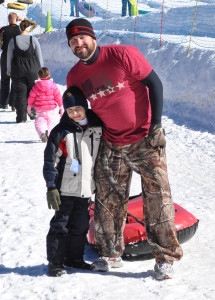 Braulio was born and raised in Garland, Texas. He graduated from Texas Tech University with a Bachelor of Science in Biology with minors in Chemistry and Spanish. He then went on to earn his Masters of Physical Therapy from Texas Tech Health Sciences Center. After graduating, Braulio got married his wife Samantha (Roach) Delgado. They now have two boys, Landon (9) and Sawyer (6, pictured).
Braulio and his wife are both physical therapists and started their own business eight years ago called Rebound Rehab.  Prior to starting this business, they both worked for a nationwide outpatient clinic.  Samantha decided to venture out on her own and steadily built up a clientele while Braulio continued working as an outpatient therapist.  When Samantha became pregnant and wanted to stay home with their first son. Braulio left his salaried position and became a contractor seeing her patients.  They built reputation for themselves and before they realized it, they were running their own business. "We had no intention of starting our own business, had no experience running a business, but out of need, our business was born and we started Rebound Rehab."
Braulio picked up the book American Sniper about three years ago. That lead to reading The Lone Survivor, Fearless, SEAL of Honor, and books about training by Dick Couch. That spread to other forces including the Green Berets in The Only Thing Worth Dying For and the Army 10th Mountain Division Outlaw Platoon. "I could not get enough of reading about the heroics of the military, what they stood for and the sacrifices they made. I have the utmost respect for them all. From the books, I learned a lot about their leadership, sacrifice, love, honor, courage and commitment . I have used them as examples to teach my two sons about life.  The lessons taught by the parents of Chris Kyle, Marcus Luttrell, Michael Murphy and Sean Parnell to teach my boys about what it takes to be a man who lives to uphold the core values important to him."
"When we began Rebound Rehab, we had a lot of hurdles we needed to overcome and made a lot of mistakes along the way.  Luckily for us, the mistakes were relatively minor and we were able to overcome them.  Along the journey, we have learned a lot and feel we are in a position to help others along the path. My goal is to help in any way I can, help potential entrepreneurs see things they not have seen, ask tough questions and approach their situation from an impartial point of view.  I am excited about this and hope I have something to offer new business leaders."
Braulio lives in Lubbock, Texas.