Al Spector
Al is a Veteran and TJP Mentor. He received his Bachelor's Degree from San Jose State University in Industry Relations and Psychology.   He received his commission in the US Army Reserves as a 2nd Lieutenant through ROTC at San Jose State. He spent his active duty career at Fort Geo. G. Meade, MD. He left active duty in May 1969.  He was promoted to Captain in the USAR in 1970 and resigned his commission in 1973.
After leaving active duty in 1969, Al held several sales positions over the next 44 years with national and international corporations focused on the specialty chemical and plastics industry.
Al heard about The Jonas Project from a friend over lunch one day. Al is semi-retired now, working as a consultant, which affords him more time to give back, especially to aspiring Veterans with a passion for starting their own business.
Al has trained and mentored 7-8 salespeople over the last 30 years, many who have gone on to own very successful businesses and have climbed the ladder of success within their companies.  "I always found that extremely rewarding," says Al.
Al lives in Fountain Valley, California.
Robbie Thomas
Robbie is a Veteran and TJP Mentor. He has extensive experience in the energy industry both with his education, his time in the military and his own business.
Robbie has a bachelors in Materials Engineering from Auburn University, and a M.B.A. from the University of Maine. He is also a Solar PV Installation Specialist, Velux 5-Star Solar Thermal Installer, and has an Unlimited General Contractor's License in TN with Solar Specialty Classification.
He spent 21 years in the Navy's Nuclear Propulsion Program in submarines. After his time in the military, he moved on to a different type of energy – solar! He's spent the past five years building his own business as a solar developer with Efficient Energy of Tennessee. EETN has rapidly become the leader in Solar Installation in Tennessee and is currently procuring jobs in the surrounding states as well. Additionally, Robbie expanded operations to include the Caribbean and has an office based on Grand Cayman Island.
Robbie found The Jonas Project through a friend who was also getting involved. "I feel that Veterans have so much potential as business owners and managers, but it can be difficult to start one's own business. If I can help a Veteran avoid the same pitfalls I encountered, I will gladly do so. Additionally, there are programs such as CVE Certification for SDVOB and GSA contracting that can benefit veteran owned companies. I could have used some guidance related to these early on," says Robbie.
Robbie lives in Powell, Tennessee.
Michael Soller
Michael is a TJP Mentor and the Communications Director with Public Counsel. He comes to us with 7 years of experience in communications and 5 years of experience in journalism. While not a Veteran himself, he has a wealth of knowledge to share in both communications and law.
Michael's expertise is in media relations, graphic design, publications, and online communication strategy. He has worked for the Los Angeles Times, the nation's fastest-growing labor union, and Public Counsel, the nation's largest not-for-profit law firm of its kind. Public Counsel has a special project to aid veterans in need of legal help and he brings that background to his work.
Michael learned about TJP through Public Counsel staff and pro bono attorneys who were involved in the founding of The Jonas Project.
"The Jonas Project has a powerful model for helping veterans with a vision for a successful business idea to make it a reality. Veterans made a choice to serve our country, and deserve our support. I'm ready to put my skills to work helping veterans pursue their dreams" says Michael.
Michael lives in Los Angeles, California.
Tom Faust
Tom Faust is a Veteran of the US Army, an officer in the Airborn Infantry and a Army Ranger. He is currently a partner in Faust-Rosati Associates, LLC, a management consulting firm specializing in turnaround management and mergers, acquisitions and divestitures.
Previously, he has been CEO for MKBF Corporation, a holding company that he owned, with two wholly owned subsidiaries: Masterite Connector Corporation (MCC) and New Vac Electronics, Inc. (NVE), all California corporations. Tom served as CEO of both subsidiaries. Both MCC and NVE manufactured electronic components for use in the interconnect industry serving almost exclusively in the military and aerospace markets. All of these businesses have recently been sold.
Tom is now interested in putting his knowledge and experience to work, on either a full-time or part-time basis, to help any corporation/organization to achieve its maximum potential. Most of Tom's electronic experience is in the military/aerospace sector serving customers such
"I look forward to my relationship withTJP and will do everything I am able to help the vets."
Tom lives in Laguna Woods, CA.
Jeremy Boeh
Jeremy spent 6 years on Army Infantry Active Duty with two deployments to Iraq: 07-09 and 10-11. After completing the Green to Gold program, he is currently a Second Lieutenant in the US Army Reserve. Jeremy graduated from Wofford College in Spartanburg, South Carolina.
He is now an Assistant Director of The Space at Wofford College where he runs and acts as a start-up consultant for The Space to Launch; an entrepreneurship program. The program believes college is the ideal place to start your own business or non-profit and provides support from advisors, professors and alumni mentors. (A great fit for TJP!). Jeremy also sits on the board for the Spartanburg Entrepreneurial Resources Network.
"I love working in entrepreneurship because I believe that it is the process of embracing success and failure that results in real world learning experiences. I saw TJP on the internet and was impressed. As I looked more into the organization I realized that our values and desire to impact the lives of veterans aligned. I want to provide soldiers with every opportunity to transition into civilian life and accomplish the goals and dreams they put before them. The TJP model creates a reinforced road to success to veteran entrepreneurs." You can follow Jeremy on Twitter @jeremy_bay.
Jeremy lives in Spartanburg, SC.
Bob Benson
Bob served four years in the US Navy Third Class as a Communication Tech in Rota, Spain from 1969-73.
Now, Bob is President of
High Country Marketing Consultants, Inc
, working with medium and small businesses to get the best efficiency from advertising and marketing dollars.  "I do this job because it's still a kick for me to help medium and small businesses grow."
Bob learned about TJP while watching a piece on the local news. The story was talking about the fact that people need to remember what Memorial Day is all about.  "It's about paying tribute to our fallen military.  Having served in the Vietnam era, it's nice to see people actually wanting to thank the military."
Bob lives in Austin, Texas.
Braulio Delgado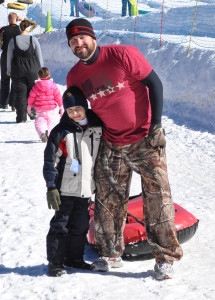 Braulio was born and raised in Garland, Texas. He graduated from Texas Tech University with a Bachelor of Science in Biology with minors in Chemistry and Spanish. He then went on to earn his Masters of Physical Therapy from Texas Tech Health Sciences Center. After graduating, Braulio got married his wife Samantha (Roach) Delgado. They now have two boys, Landon (9) and Sawyer (6, pictured).
Braulio and his wife are both physical therapists and started their own business eight years ago called Rebound Rehab.  Prior to starting this business, they both worked for a nationwide outpatient clinic.  Samantha decided to venture out on her own and steadily built up a clientele while Braulio continued working as an outpatient therapist.  When Samantha became pregnant and wanted to stay home with their first son. Braulio left his salaried position and became a contractor seeing her patients.  They built reputation for themselves and before they realized it, they were running their own business. "We had no intention of starting our own business, had no experience running a business, but out of need, our business was born and we started Rebound Rehab."
Braulio picked up the book American Sniper about three years ago. That lead to reading The Lone Survivor, Fearless, SEAL of Honor, and books about training by Dick Couch. That spread to other forces including the Green Berets in The Only Thing Worth Dying For and the Army 10th Mountain Division Outlaw Platoon. "I could not get enough of reading about the heroics of the military, what they stood for and the sacrifices they made. I have the utmost respect for them all. From the books, I learned a lot about their leadership, sacrifice, love, honor, courage and commitment . I have used them as examples to teach my two sons about life.  The lessons taught by the parents of Chris Kyle, Marcus Luttrell, Michael Murphy and Sean Parnell to teach my boys about what it takes to be a man who lives to uphold the core values important to him."
"When we began Rebound Rehab, we had a lot of hurdles we needed to overcome and made a lot of mistakes along the way.  Luckily for us, the mistakes were relatively minor and we were able to overcome them.  Along the journey, we have learned a lot and feel we are in a position to help others along the path. My goal is to help in any way I can, help potential entrepreneurs see things they not have seen, ask tough questions and approach their situation from an impartial point of view.  I am excited about this and hope I have something to offer new business leaders."
Braulio lives in Lubbock, Texas.
Drexel Smith
Drexel Smith earned an Associate of Science degree at Mt. SAC and a Bachelor of Science degree at the University of Redlands.  He is a combat veteran having served honorably with the United States Navy for over four years with two tours in Vietnam, including a tour as an advisor with the Naval Advisory Group
Drexel Smith has a unique combination of skills and experience from a long history of public service and more than four decades of evaluating systems for the defense, aerospace, energy, transportation and commercial product industries.  His broad range of career responsibilities went from technical, to contract administration, to executive management; from test engineer to corporate management. He retired in December 2008 as the Corporate Sr. Vice President of Wyle Laboratories Inc., where he was responsible for business development; marketing and communications; environment, health & safety; real property; and government relations. Previous assignment was Senior Vice President & General Manager, Technical Support Services (TSS) Business Unit that operated and maintained laboratories and research facilities for government and industry clients such as DoD, NASA and major prime contractors.
Today he is principal of the Drexel Consulting Group, LLC an executive management consulting group supporting corporations and new business start-up companies.  Mr. Smith remains active in the political process both locally and in Washington.
For the past ten years Smith has been actively involved in workforce development and STEM education issues. As a member of the California Space Authority Board of Directors he was instrumental in establishing a Speaker's Bureau to 'ring-the-bell' of the emerging crisis of fewer students taking a science curriculum speaking before Congressional committees and industry.  Smith continues to actively participate as a speaker on technical and policy areas and has been providing a series of papers and presentations on workforce and education issues in the Aerospace, Energy and Technology market sectors and has been a national speaker on this topic to technical societies, civic and academia groups.
Manny Tatavak
After graduating from the University of Texas at Austin with a degree in Biology, Manny spent 9.5 years in the United States Navy as a Naval Aviator, LT, and 3 years in the Naval Reserve. While serving, he went back to school and received his MBA from Texas A&M Corpus Christi.
Manny immediately began working in the rail industry after leaving the military. He spent 5 years as the Southwest Region Sales Director for TrinityRail before becoming President of TransAmerican Transportation. He then ventured out on his own and started his own business in 2012 called eRail Commerce.
Jonas and Manny went to college together and were close friends. When Manny heard about The Jonas Project, he decided to get involved first and foremost to Jonas and help carry out his legacy in a meaningful way.  He also firmly believes that helping empower our Nation's veterans to create businesses in the private sector isn't only a great way to give back to our community, but that our vets have highly valuable and transferable skill sets from the military that lend themselves to becoming successful entrepreneurs.  "I truly believe in the Mission of the Jonas Project and it makes me feel good to help out fellow veterans," says Manny.
Having been through the process himself, Manny understands what it takes to step into an entrepreneurial role. Now he wants to help other create their business strategy, business plan and then execute.  He has great insight into what investors are looking for when searching for funding. Mostly, Manny wants to be there to coach and support other rising stars.
"The road of the entrepreneur is daunting and lonely and without the right support and advice, it is easy to fail.  I want to make my mentees successful and help them realize their dreams."
Manny lives in The Woodlands, TX.
Mike Hedges
Mike never served in the military but grew up in a military home. His father was an Army Special Forces Green Beret, so his respect for the Armed Forces runs deep.
He has been self-employed since he was 24-years-old and currently owns a commercial truck dealership, Pacific (Truck & Equipment) in California. Before that, he owned a successful highway construction company for over 16 years, a radioactive & chemical waste transportation company and currently owns an income property business in New York.
"I got involved with the Jonas Project to help give back to those that have sacrificed so much for my freedom, to be a part of John's passion and to celebrate Jonas's life through each Veteran that I am able to help," says Mike.
"I would like to contribute and share my knowledge and experiences with Veterans that share the entrepreneur passion. I needed someone to turn to when I started my first business, it would have been great to have something like the Jonas Project. I am a small business advocate and this is a great opportunity to help other small business grow."
Mike lives in Longbeach, CA.
Brent Freeman
Brent spent his college years at the University of Texas at Austin in the NROTC program. He majored in Liberal Arts with minors in math and physics. After graduating in 2000 he reported for duty in the Navy. He left as a Petty Officer 2nd Class, Rate - Machinest Mate - Main Propulsion 2, USS Belleau Wood.
Since his time in the Navy, Brent has spent the last 10 years working in the field of Business Intelligence and Data Warehousing as a Project Manager, Business Analyst and Program Manager.  He is currently a Senior Business Analyst/Project Manager at National Instruments.
Brent holds a Project Management Professional (PMP) certification from the Project Management Institute (PMI) and is versed in managing projects using both Agile and Waterfall methodologies.
Brent got involved with The Jonas Project because he spent time with Jonas in college, as they both attended UT Austin in the ROTC program. "I started at the UT NROTC Unit in August of 1997 and met someone that I will never forget.  I'm volunteering my time for a worthy cause as well as to honor the memory of a true hero, who gave his all…something that's hard to even fully appreciate. Jonas brought light to the world around him, his family and friends. Those of us who knew him should bring just a little of that in his memory," says Brent.
He is excited to bring a highly valued and specialized set of skills to any Veteran business. "I am a very logical and critical thinker who is willing to get into the details of a start up business to provide or help uncover insights or feedback."
Brent lives in Austin, Texas.
Brian Smalley
Brian spent 15 years in the United States Marine Corps, during which time he earned his degree in Business Administration from The Citadel, and his MBA from Gonzaga. He left as a Captain in the Infantry in 2006.
Since then, Brian has spent his time in the Rail industry doing sales at Trinity Rail for 5.5 years and then one year as an executive recruiter. He met his current business partner, Manny Tatavak during his time at Trinity Rail. He is now a co-founder and partner at eRail Commerce.
"Manny and I spent many years planning eRail Commerce.  The trials and tribulations would have been more navigable if we had guidance back then," says Brian.
He is now deeply involved with industry organizations to stay at the forefront of innovation, including the Transportation Club of Houston, the Southwest Association of Rail Shippers, and ASLRRA Veterans Recruiting Committee.
"Veterans and small business are two of my passions. I believe that as Veterans, we gain great freedom and opportunity going our own route rather than being placed into a large corporate environment," says Brian.
Brian lives in Houston, TX.
Paul Tuennerman
Upon graduating from High School, Paul joined the United States Navy, where he served onboard the U.S.S. Constellation and at the Naval Training Center, Recruit Training Center San Diego.  During his 6-1/2 Year Enlistment Paul earned numerous accommodations including Scholarships, The Navy and Marine Corps Achievement Medal, and a Presidential Accommodation from then, President Ronald Reagan.  In 1986 Paul left the U.S. Navy at the Rank of E5.
Following his Enlistment, Paul's passion for food has lead him from coast to coast, so it was only a matter of time till he found himself in New Orleans where a love for food also means having a deep reverence for its history, an obligation to preserve it, and passion for supporting those who have made it, a part of their life's work. That is exactly what Paul does through his involvement with a number of Non-Profit Organizations such as the New Orleans Culinary & Cultural Preservation Society, and the Gulf Islands Review. Paul also shares his passion for food and drink as a contributing writer for Nightclub & Bar Magazine, Food & Beverage Magazine, and other Industry Journals.
When not sampling the incomparable food of South Louisiana, Paul serves as a Senior Executive for Raising Cane's Chicken Fingers, a fast growing Fast-Casual Restaurant Group in Dallas, TX with over 180 Restaurants in 18 States. Prior to this, Paul had served in leadership positions in operations, development, and marketing for Piccadilly Restaurants, Wood Dining Services, Morrison's Hospitality Group, and Service America Corporation.
Paul's educational experience includes National University, York College of Pennsylvania, University of Maryland University College, and a MBA Certificate from A. B. Freeman School of Business at Tulane University.
Paul's motivation to participate in the Jonas Project is as a result of the numerous individuals he met during his tenure in the U.S. Navy who helped him develop into the individual he is today.  Paul met is personal mentor, CMDR John G. Neeb, Jr. while stationed in San Diego.  Twenty-Six years later, John and Paul make it a point to still enjoy a meal or two, together, each year, since leaving the U.S. Navy.
Through the Jonas Project, Paul hopes to be able to return the favor that CMDR Neeb and so many others did for him, along the way.
Paul lives in Dallas, Texas.
Elaine Matthews
Elaine has completed 13 successful start-up companies in her career, including divisions for MCI and ICS in addition to unique industry niches.  Outside of her current company, Ventures, Etc., LLC, started in 2002, she has also started three divisions for The Stronach Group in the past 10 years.  Industries include government, financial, horse racing, technology, customer service and construction.  Elaine's career has spanned over 25 years, and she brings vast experience representing and operating a disparate list of organizations.
While Elaine as no military background herself, she has looked for ways to best contribute to our nation's Veterans, "those that have given so much so that I have freedom, and freedom of fear, without personal cost."
Simply giving to charity is a step in the right direction, but she often feels like it's just not enough. "About four years ago I started long-distance running and have experienced many conversations with our wounded warriors, learning about their own personal challenges and their models for overcoming them.  The Jonas Project is an incredible vehicle for me to use the skills and talents I have to participate in making a difference to those that have made a difference to me."
Elaine lives in Long Beach, CA.
Jim Youngblood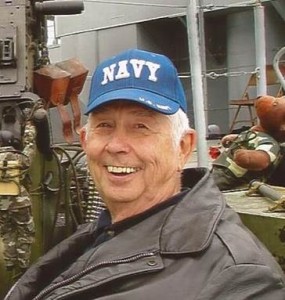 Jim is a US Navy Veteran. He served from 1952-1955 as an Air Crewman on Grumman AF2W, Radar Search Operator and Navigator.
His career after service took him from technician, to sales and marketing, then product management and on to senior management positions. Eventually, he founded and managed Peripheral Equipment Corporation in 1996. PEC provides hardware systems for mobile and severe environment computing and networking applications. The company re-engineers and re-manufactures commercially available products with enhancements that allow transport and operation in ground mobile, airborne, shipboard, and other harsh environments.
In 2002, Jim decided to retire. But, in true entrepreneur fashion, he decided to act as a consultant helping to create an internet business, and then went on to found ShopandContribute, Inc., where he is a managing partner. ShopandContribute is an online funding company for non-profit charitable organizations.
Jim was introduced to The Jonas Project through his local theater group where he is an active member. His greatest desire is to "simply help Veterans" Jim says.
Jim currently lives in Laguna Woods, CA.
John Gurasich
John graduated from University of Texas in 1970 with a BBA in Accounting and a MPA in Taxation in 1971.
After graduating he worked for Arthur Andersen & Co. for 8 years in Denver, CO. He worked to help companies minimize their taxes; through his work he became active in the real estate and natural resource industry.
When John moved to Phoenix in 1979 to join Harold Simpson, a property development company, he picked up a few new skills while starting a development company, a property management company and a brokerage company, and even became a licensed General Contractor and Real Estate Broker.
In 1992, John went out on his own to concentrate on building the property management company and the Brokerage company.  The property management company grew to manage 6500 units with operations in Arizona and Texas.  He sold the management operations in 2006 and spent the next seven years in real estate consulting and brokerage activities.
John was a mentor to business owners during his time in Phoenix, and was a member of a TEC group, consisting of 10 or so small business owners who met monthly to discuss and solve business issues.  "I became a student of "Best Practices" and this helped me greatly.  As a member of TEC, we worked to help each member run his/her business more effectively," says John.
"I enjoy helping other business people succeed and avoid making the mistakes that I or others have made.  My experiences are varied and afford me a perspective to focus on strategic planning matters.  My son-in-law is in the Marine Corps, and has completed four deployments.  I have a passion to help military vets in their civilian lives."
John lives in Austin, Texas.
Robert Skidmore
Robert served in the U.S Army during the Vietnam war. After his time in the Army, Robert earned an AA degree from Long Beach City College and then studied Business Administration and Marketing Management at California State University, Long Beach.
From 1972 to 2002 he was President and/or CEO to three industrial wholesale companies, first as owner of Slater Industrial Supply. While with Slater Industrial Supply he also served as president of two trade associations including the Industrial Distribution Association comprising 1,100 national member companies.   In 1997, Robert and eight others merged their companies in a roll up and took that new entity public on the NYSE.  He filled the role of president for the Industrial Distribution Group - California which covered three western states and northern Mexico.
In 2003 Robert transitioned into executive coaching and general business consultation owning a franchise of Renaissance Executive Forums in greater Long Beach through 2006.  He worked with owners and top executives of a wide variety of business types including homecare, restaurants, non-profit organizations, manufacturers and more.  Since then, he has worked as an independent executive coach and consultant eventually joining Operating Solutions Group in 2012.
Robert read about TJP in the Long Beach Press Telegram and decided to expand his volunteer work to include helping veterans in a way that he felt qualified. "I look forward to providing support to help VOB's balance their professional and personal efforts, grow their businesses and avoid catastrophic pitfalls," says Robert.
Robert lives in Long Beach, CA.