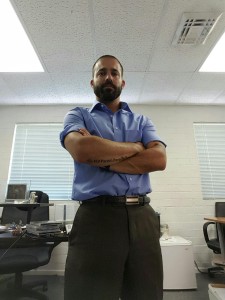 Tony credits the Marines with giving him purpose, sense of self, and perspective. "I enlisted because I wanted more discipline, but I got more than I ever bargained for."
After spending eight years in active duty Tony returned home to California, completely changed. He quickly realized that the life he had created for himself as a Corporal in the United States Marines was very different than the life he had at home. It was more challenging than he realized to get a job and he did not do well with idleness.
"Coming back, you feel like you've left something behind that you're never going to find."
Tony spent a few dark months in this state, chasing something he couldn't find, until he found purpose yet again: he established MBSC Inc., a security company run by veterans, that hires veterans. It seemed like the natural step to Tony. The qualifications you need to run security are the same you're taught in boot camp, the same you use every day you serve to protect your country and keep it safe. He founded the business and set to work: reveling in the routine, the rigor, and most of all – the independence.
After the first year Tony learned some hard lessons. He found that many veterans grow complacent after service, that they took for granted that MBSC offered much higher pay than its competitors. To combat this, Tony led by example. "I showed them they were expendable," he said, "that there were civilians waiting in line who would work for two dollars cheaper." The revenue was also concerning. Although Tony had already shattered the statistics for most new businesses by being profitable the first year, the revenue wasn't much: $3200.
They say that good things come to you when you're busy doing something you love, and it's hard to attribute William's arrival in Tony's life to anything else. After being introduced to The Jonas Project through a friend, Tony was assigned a mentor who happened to be William Osgood. "William," Tony told us, "is hands down one of the best mentors I've ever had."
William hit the ground running alongside Tony, helping him secure invaluable certificates and discussing in depth the pricing model, the product placement, asking Tony questions Tony had never asked himself. Together they secured Tony's SDVOB, which allows Tony to bid on government contracts. "William is a lot smarter than me, he has so much knowledge in this area. He has been… a great asset to me."
As Tony grew to understand his business more, his confidence grew. The second year MBSC earned $62,000 in revenue, almost 20x more than the year before. He employees 10 full-time employees, 6 of which are veterans.
Looking ahead, Tony is not comfortable being complacent. That's one thing that years of service has taught him. He is fueled only by the challenge of what lies ahead, the desire to be better than you were the day before. Because of this outstanding work ethic and his desire to excel – he is now expanding his company to include a safety branch of MBSC. The new addition is exciting, but also scary. Yet again, Tony is running head-first into an opportunity armed only with his experience, his work ethic, and the knowledge that William is always just a phone call away.