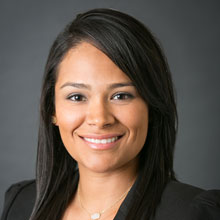 After serving with the Army for four years, Monica found her transition back to being a civilian "challenging." Finding a job "was more difficult than I expected. It's hard to know what you want to do but don't know how to go get it." Monica began working with a construction company for 8 years. She worked hard, was very happy, and was promoted until she hit the ceiling of opportunity within her company – there was no where left for her to grow. Monica had to make a difficult decision, but she ultimately decided to move on and create her own company.
Because of the skills she had learned from her years of service and deployments to Korea and Iraq, Monica felt equipped to take on this challenge. She had learned about leadership, about independence, and was comfortable with diversity and managing different kinds of people. She felt passionate about the industry and she certainly had the experience, but it didn't minimize all the obstacles of starting a business. "The hardest part was starting with no money," Monica remembers. "Bootstrapping, tapping into every market, it was challenging."
One day Monica was looking online for resources available to her, for opportunities to fund her dream, when she came across The Jonas Project. "I thought 'This is too good to be true!' I reached out to them and just asked – 'Is this legit?'" It was. The Jonas Project happily accepted Monica into the program and began aligning all their resources to help her achieve her goal. "They just help you with everything." But the biggest help was still coming, in the form of her Jonas Project mentor, Lisa.
"Lisa," Monica says, "is my twin. She is real, she gets to the point. I know she always has my back. She's the best! Out of everyone at The Jonas Project, they couldn't have picked a better person for me." With Lisa's help, Monica worked to obtain all the certifications and contracts needed to utilize all the government benefits available to her as a woman, a veteran, and a minority. She established E9 Construction in 2015 – and it's already profitable. E9 has a special focus on federal procurement and hopes to expand in the future.
The best thing about owning her own business is that Monica gets to demonstrate to her son Isaac, 9, that he can do anything. Her "main motivation to succeed" gets to watch as his mother overcomes every obstacle thrown her way and forges a path for herself. Because of Isaac, Lisa, and The Jonas Project, Monica has built a construction company – from the ground up. We asked her what the best part is of going to work every day and for Monica, the answer was simple: "I get to work for myself! I like being my own boss."
Monica lives in Fort Worth, Texas.