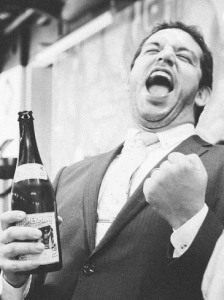 Daniel Tapia enlisted in the US Navy in 1998 as an Electronics Technician. He attended the Naval Nuclear Power Training Command in Goose Creek, SC, and then received an appointment to the US Naval Academy from Vice President Al Gore. He had to leave after three years due to an injury, and finished his degree at Santa Monica College.
Daniel has been running restaurants for years. "I was the senior sommelier at Bouchon in Beverly Hills when I was released because I used a cane due to my injury. The general manager began instructing the hosts and hostesses to seat elderly and disabled people in the rear of the restaurant where they wouldn't be seen from the front. This was not my first run-in with disability discrimination, but it was the worst. I decided it was time to start my own company, where I wouldn't have anyone place limitations on me. I had been wanting to do it for years, but this was the final push."
He started with the idea of a cocktail bar, and spent six months looking for locations. When he finally found the perfect location, he realized it wasn't the perfect location for a cocktail bar, so he changed gears and decided it would a full service Alsatian restaurant. "It's kind of like seeing the canvas and just knowing what needs to be painted there," said Daniel.
And that's how Dtap Tavern Company was born. Marketed as a Franco-German beer hall, the restaurant called 4th and Olive will have a homemade food-driven Alsace restaurant with a French and German wine list and a German and Belgian beer list. He currently has a target staff of at least 70% veterans. He and his architect have been looking into ways to make this the most accessible restaurant in Long Beach. Veterans, especially disabled veterans, who are fully able to work but are having a hard time finding work, will be welcome at Dtap Tavern Company. "We will have Long Beach's first rooftop culinary garden. By year two, our goal is to have all of our produce besides tree fruits supplied by our own gardens," says Daniel.
"I am a recovering quadriplegic. I am high functioning relative to other quads; we are called 'walking quads'. I had a surgery at the VA hospital several years ago in which I had a partial spinal cord injury that left me with palsy in all four limbs. Because I'm stubborn as hell and I have an incredibly supportive wife, I am able to live a largely mobile life today."
Daniel lives in Long Beach, California.