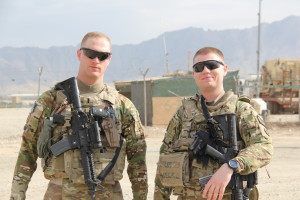 Sgt. Kevin Klasky and Lt. Teague Savitch met just days before a deployment to Afghanistan in 2014. SGT Klasky was a Military Intelligence Analyst (35F) in the U.S. Army and 1LT Savitch was a Military Intelligence Officer (35D).
During their deployment, they were working in a fast-paced, high-stress environment that required lunch be fast and portable. They wanted healthy breakfast and lunch to-go meals that offered a natural boost of energy not found in the energy drinks that were prevalent on base.
Upon returning from their deployment, Kevin and Teague found themselves back in a civilian world where the everyday consumer wanted food to be fast, healthy and performance enhancing.
They created their company, Assemblers, and set off to build a brand that meets this consumer mindset with a quick, tasty, and healthy breakfast and lunch served in a to-go bowl where the customer has the freedom to build their personalized bowl choosing from a range of fruit smoothie bases that are topped off with an assortment of all natural performance-enhancing food toppings.
Kevin has since decided to return to school to further his education, and Teague is continuing to dominate the to-go health food scene in Fullerton, CA, before total world domination.