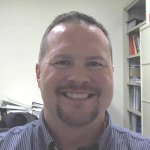 After touring 13 different countries and devoting four years of his life to the United States Army, Jamie transitioned to the Ohio Army National Guard until 1998.  Of his time as an infantryman, Jamie says, "Being in the Army helped put my priorities in order. It gets you to look at your life in context." Serving his country fulfilled a lifelong dream of Jamie's, from as early as he can remember, he had always wanted to join.
However, the transition following his "extremely positive experience" in the Army was colored with challenges he hadn't foreseen. Going back to civilian life "took a few years to feel normal again," but one of the things that helped Jamie the most was the cathartic experience of writing a book, Battle Scars. It helped him work through his first combat tour in Panama, and helped him close the book on one chapter of his life so he could focus on another. "I needed to be an example to my kids," he says of Holden, 22, Garrett, 13, and Gracie, 12. "They're the best thing I ever did."
The second-best thing he ever did was make the decision to open a business. Like many great ideas, this one was born from a need Jamie witnessed firsthand: the absence of realistic training scenarios for target practice and specifically, for engagement situations. As a skilled shooter and a frequenter of competitions, Jamie wondered why no one had ever incorporated the use of up-to-date technology into this industry.
Right then and there, Apex Target Systems was born. Jamie wanted to manufacture portable, affordable, electronic target systems that could be controlled through a smart phone and record the engagement sequence in real time. He had his idea polished and his target market selected, but he needed help in launching a company.
When he found The Jonas Project and met mentor Elaine, Jamie knew he had just secured his success. The team came together to give Jamie all the resources he needed those first scary months, but the biggest resource was Elaine. "She just motivates you," Jamie says of his mentor, "but not in a militaristic way. She leads you down the right path with logic and experience. Her knowledge permeates her mentorship." Because of her guidance, Jamie looks back and realizes that he dodged some "major pitfalls" that posed a real threat to many other entrepreneurs.
But Jamie keeps everything in perspective. Making financial decisions that affect more than just yourself, being your own motivator and your own boss, constantly pushing yourself to be better than you were the day before – these are all difficult obstacles. But "once you've been in combat, after that… everything else is easy."
Finding The Jonas Project didn't just help Jamie become a CEO, it also helped him heal, which is the reason The Jonas Project exists at all. To honor our fallen and create something beautiful out of their memory. "Every day is a bonus now," Jamie says, "but at least I've got the opportunity to still be here."
As a father, an author, and an entrepreneur who is showing his children that they can do anything they set their minds to – we think he's using his bonus time wisely.
Jamie lives with wife and three children in Ohio.