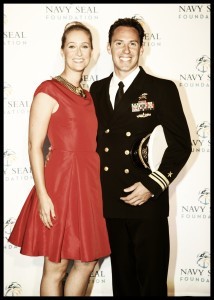 Colin was ten years old when he was on vacation in California, playing with friends on the beach. A group of older guys struck up conversation with Colin and his friends and spent their afternoon throwing the football around, telling the impressionable young boys stories about jumping out of planes and blowing stuff up. Colin came home and told his mother definitively: "I want to be a Navy SEAL." So he did.
After receiving his Bachelor of Science degree in Economics in 1999 from the US Naval Academy, Colin went on to become a Naval Officer. After the tragic events of 9/11, Colin volunteered and was selected to become a Navy SEAL. It was then he felt like he found his truest calling, and Colin proudly served, being promoted to higher ranks until he was named Commanding Officer for the Reserve Navy SEAL unit over two years ago.
When asked what Colin gained from his experience as a SEAL his answer comes without hesitation: "Total humility. The world is a complex and nuanced place, and I was lucky to work with others who raised their hands to be a part of something greater than themselves." It was at freefall school that Colin met Jonas, another volunteer who had raised his hand to become a part of something greater than himself.
After Jonas' death, Colin met John Kelsall, Jonas' father, at a Navy SEAL Foundation event and the two started trading stories about Jonas, talking about the kind of man he was, the kind of mark he left. John asked Colin if he would be interested in getting involved with The Jonas Project, and although Colin was at Stanford Business School at the time, he immediately accepted. The opportunity seemed fated, as Colin was grappling with his own career path at the time. "I had always wanted to start a company, but I was deciding whether to go work for some big company or branch off and start my own," and The Jonas Project helped Colin answer that question.
Colin's business idea came to him naturally; it was a great need he saw among the military and veteran community. "The concept," he explains "is to do away with anonymity and therefore – mitigate risk – when buying and selling with neighbors." After learning that a disproportionate number of crimes and robberies occur within the military community via anonymous markets like Craigslist, because of the transitory nature of the job, Colin decided to build a safer, self-enclosed market specifically targeting the community that he himself had belonged to for over 18 years.
"There's so much to learn," Colin remembers of the first few months, "it matters a lot who you surround yourself with." Luckily, Colin was assigned Jonas Project mentor Elaine, whom he calls a godsend. Elaine's active mentoring style was instrumental in helping Colin navigate the tech world, with which he was not very familiar. She was "the focal point" around which Colin built his software, the website, and the concept. Although the company is not profitable yet, Patriot List only just released the full product to market last month – October 2016. They're just getting started with over 1067 users already signed up.
Now under John's mentorship, Colin has dreams of expanding his business to extend internationally, noting that the more he traveled overseas, the more he recognized a huge need for peer-to-peer marketing. Although he only recently started working with John, Colin has a very high opinion of his newest mentor. "Jonas was his father's son. He was somebody who was always looking out for other people before himself. The Jonas Project is a real and important opportunity to continue to help veterans find value in their lives."
Read more about Patriot List at The SitRep and Business Wire.